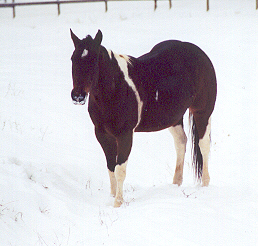 Leshias Easy Gold (aka... PEPSI)
I raised this mare .. she is a 1995 APHA mare.. her bloodlines included Easy Jet, Three Chicks on top and Foundation lines on the bottom - Hollywood Gold, Poco Bueno, Cherry Dexter, Millie Roberson.
She runs Barrels and Poles (for her size she can lay a nice Pole pattern down).. She also Team Penns.. she will do anything you ask of her..
She was shown in Showmanship, Barrel Racing and Pole Bending last year in 4-H and qualified to go to Ohio State Fair Jr. Horse show.. Leshia and Pepsi showed in Barrels and Pole Bending at the Ohio State Fair Jr. Horse Show in 2001. Did a GREAT JOB for their First year together.. she also ran at local show in our area..
She qualified again this year, 2002. She is not able to run at the State this year, can only show every other year.. But I was HAPPY she did well this year too...
Photo below: June 8, 2002 4-H show for Showmanship